And it was good! Just I tell you. That's me trotting rue du Faubourg Poissonnière: THE street of my childhood, my years Lamartine college… Happiness in itself. First discovery: the district has changed so much. A multitude of beautiful bars and tempting restaurants gave me the eye. I was thrilled that my neighborhood's heart take a so nice turning point.
So here I at « L 'Atelier de cuisine 750gr ». We are greeted by Christophe and Isabelle heads and the « Cuisine Plus » team (which we were guests). We are introduced to the « Cuisine Plus » brand without forcing and with intelligence. I learn that it is a company based in Quimper. No in french Britain, there's not only the chouchen and Druids, there is also the kitchens'maker and in the light of the catalog, they are really nice. I little knew the mark but if tomorrow I need a kitchen at the time, I would think to them.
I admit have been afraid that the aim of the workshop is to mount a kitchen, feigning a total relaxation during the introductory speech, I was looking from the corner of the eye a Toolbox that can support my hypothesis. But no, we were right there to Cook!
The deal's departure, form teams to test several recipes. My team has been formed by two adorable twins: Maud and Marine of the bobos blog see double. Then out of nowhere, as a latter-day heroine, Johanna's blog nana gossiping. Johanna, this is the girl I see that during the good times: for a tasting of champagne during a shopping spree in London and for the cooking classes. Therefore, she joined my team after a warm hug of reunion. Then the blog the kitchen of Aurélie Aurélie, joined us for a time.
An original idea for your aperitifs from cherry tomatoes
First challenge: prepare an entry for the aperitif. There, chef Christophe comes to us and tells us the color: you make stuffed cherry tomatoes. I laughed at deployed throat, I found it so funny. He has not laughed at all, it wasn't a joke. After the laughter, anxiety: « head, y'a really people, finally, I mean in reality who decide to stuff cherry tomatoes? » Kind that takes the head remove the top of the tomato to slightly cut the underside to make it stable at empty inside without destroying and then trying to put a stuffing inside? » Yes. OK, here we go!
We are busy to prepare tiny tomatoes in mode culinary surgeon, then to make a farce of lenses, sliced peppers, lemons caviar and a few spices.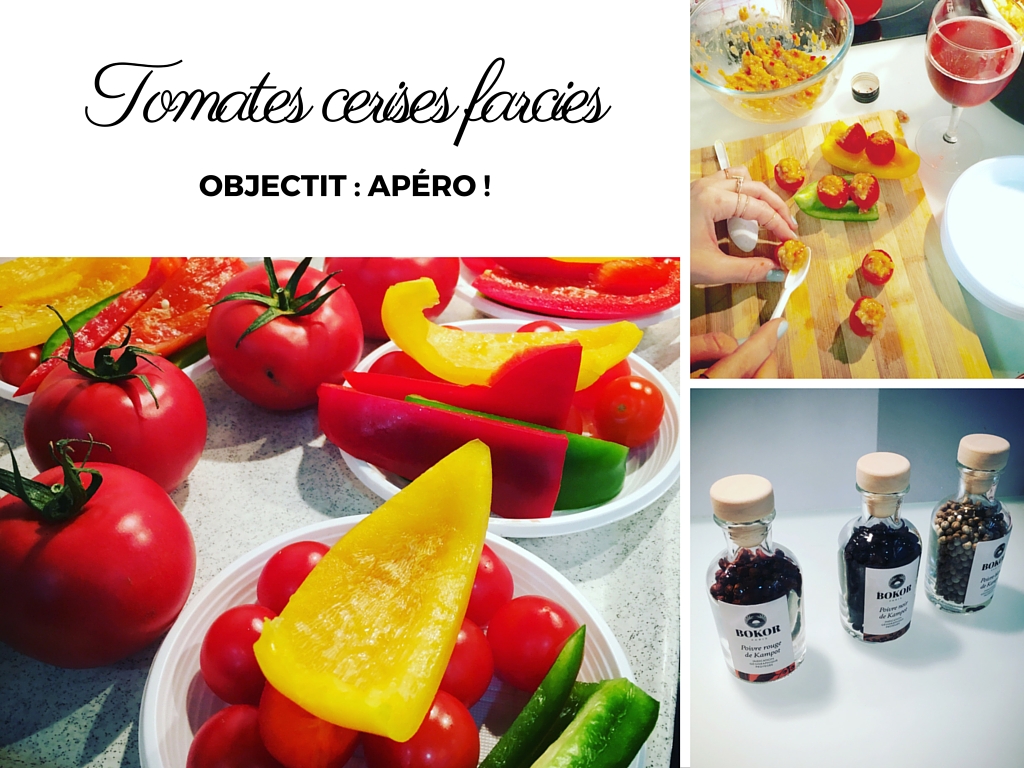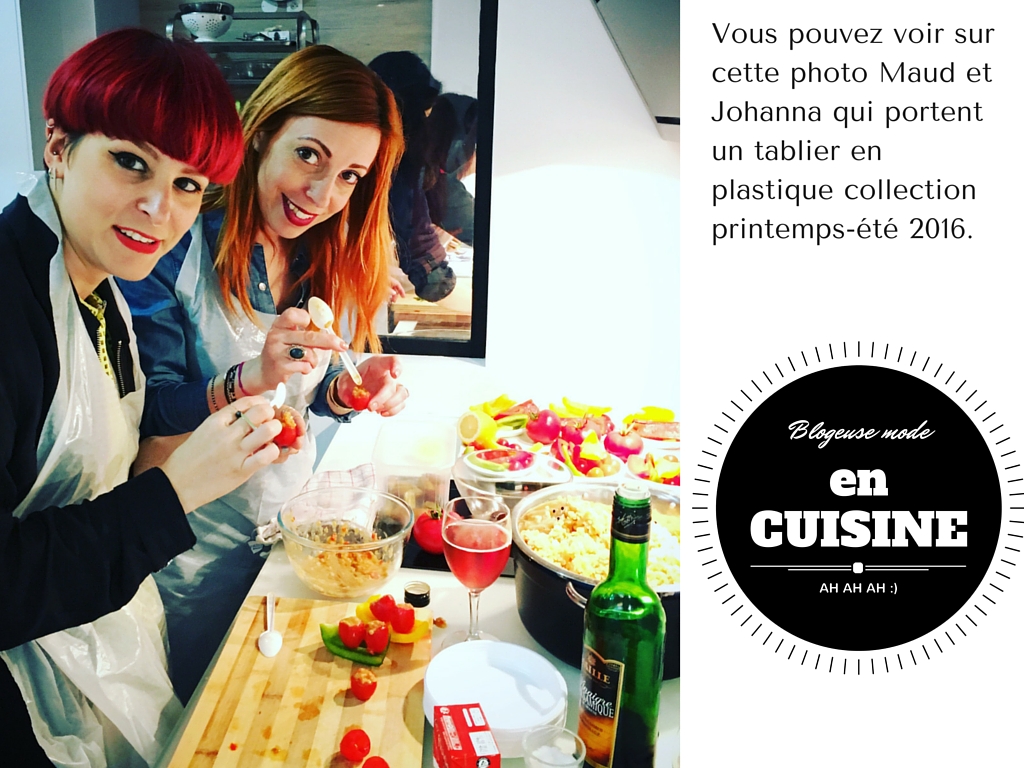 The team therefore related knowledge in this difficult ordeal, it welded us as ever. In the end, we had our beautiful cherry tomatoes that is dandinaient (it is not too stable these things) on a bed of pepper. Preparation time: 20 minutes – yum time: 2 seconds. The injustice is total.
Steam House super simple bites to realize
We then realized my favorite recipe (more super simple) bites the steaming land & sea (bacon – shrimp).  It's hyper simple, need you: of Bacon (from the real ones from the butcher), shrimp, this kind of small onion (cousin of Leek) which I forgot the name, Lemongrass, lime, salt and the bays of sichuan (or other spices according to taste). You pass all at the mixer. You make small balls that you pass steam. A sheet of coriander for decorating, and the round is played!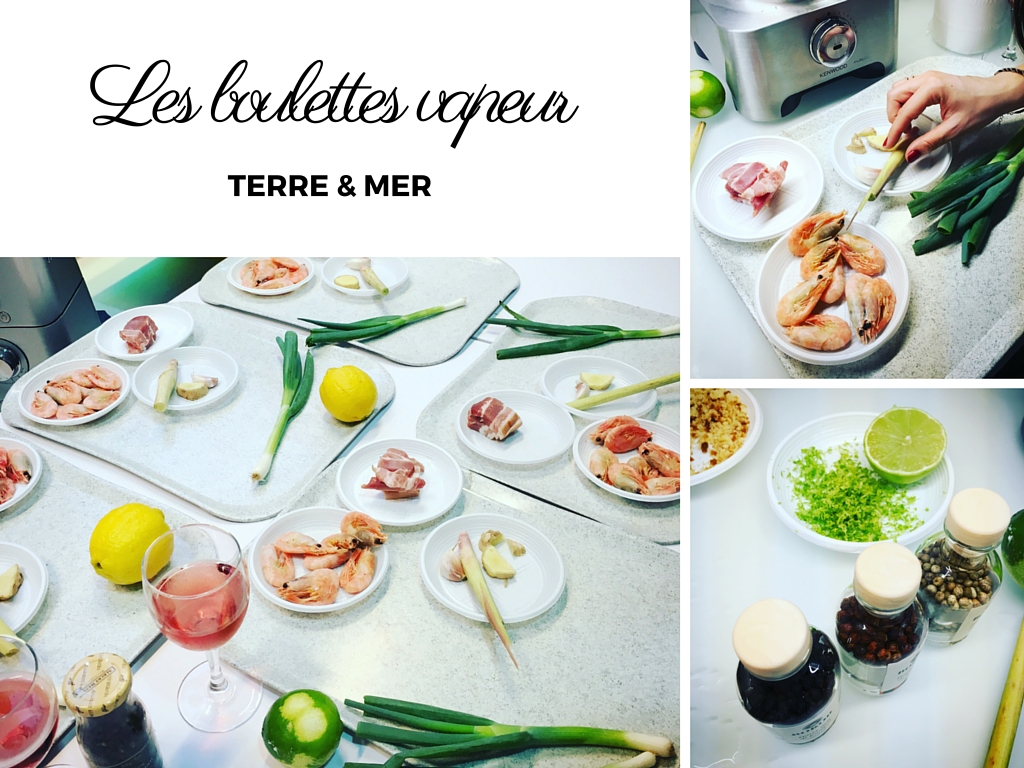 I have completely « faile » forgetting to take the recipe in picture. On the other hand, I can tell you that it was super good :D
Elegant dessert: the Black Forest verrines
We obviously attacked part dessert with a black forest of verrines version. Ingredients: vanilla cream, cherries (in my opinion the strawberry version must be very well), the chocolate chips (that obtained rapant chocolate dessert plate), whipped cream and meringues for finishing.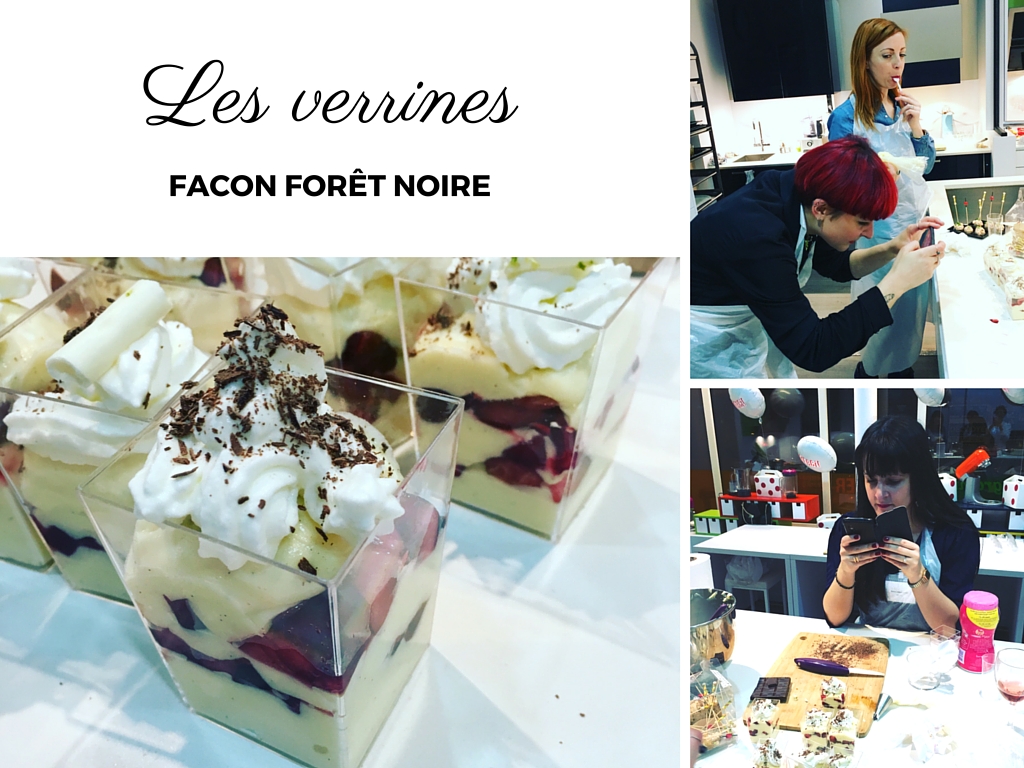 At the time of the dessert, girls are put to reproach myself for not having participated in the making of the Black Forest on the pretext that I was filming them on Periscope sneering a glass of Lambrusco to hand. I refute absolutely not this version of the facts. Incidentally, I thank those who have followed on Periscope this recipe by my care.
The only downside, I hoped to meet Chief Damien but he was absent. I returned so empty-handed at my godmother and tells him this friendly workshop. There, she told me « 750gr? But I have two friends who work there, Chef Damien and Chief Christophe. I knew them when I worked at Bragard. Did you see them? '.  » Here, it is like that that you discover as your godmother Ghislaine (gigi for respondents) 73 years is more influential than you :D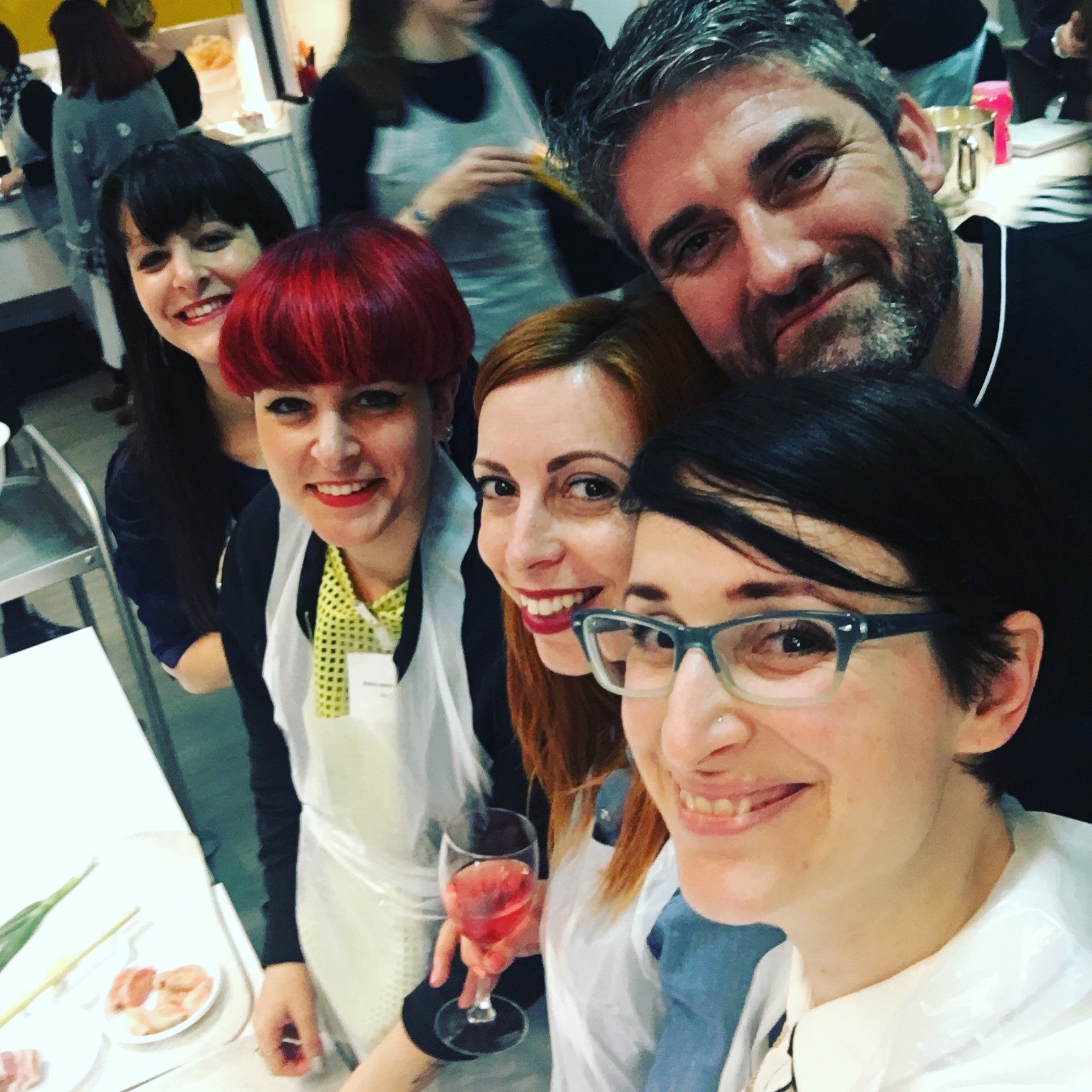 Thanks to kitchen more, Chef Christophe leader Isabelle (you were at the top) and the lovely team of the 750gr of the rue du Faubourg poissonnière workshop.