Oh, the Seb group is working on the connected kitchen appliances! And has his kitchen robot connected: the companion i (under the Moulinex brand). I was asked to test, the curious and the greedy I could not resist. As much as I love to Cook, so I'm not familiar with robots home cookers. So it was for me, a real discovery. Under the instructions of the chef, we realized a risotto of wheat with crunchy vegetables (that we auto-rebastisé blesotto), a beef stroganoff and two desserts. One which I forgot the name but it was ' good achement and a Caramelized Apples and dried fruit based dessert which was scrumptious.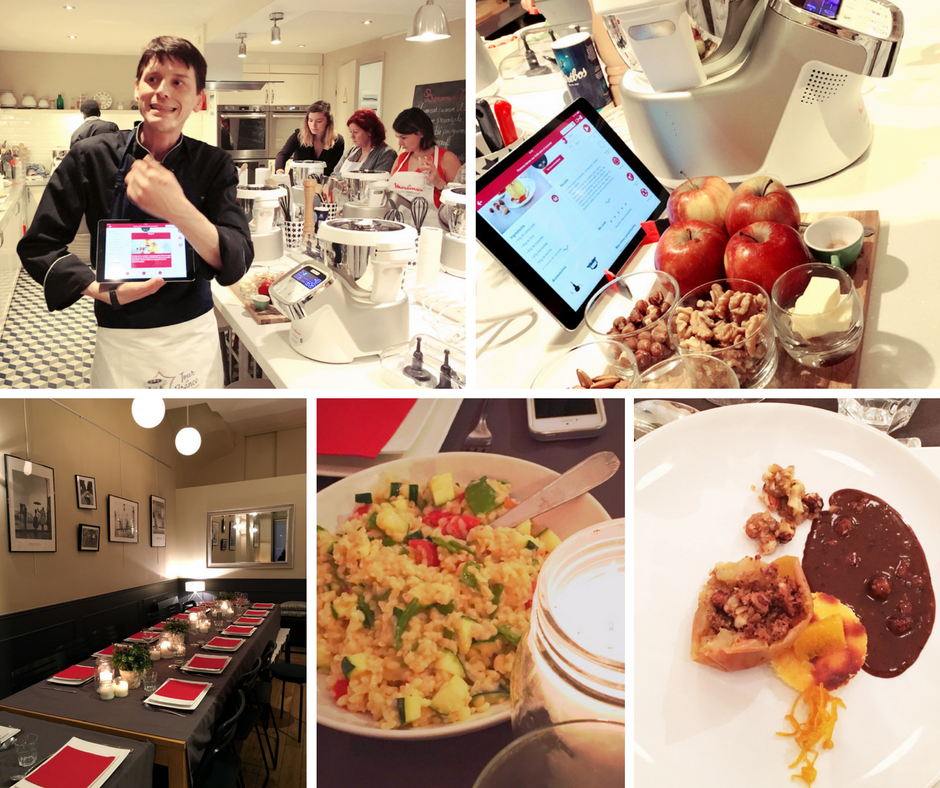 My view on the connected i-companion Moulinex food processor:
Around the table several people had other robots. So I had discussions on the advantages and disadvantages of each. For my part, I am rather neophyte in the area but I was seduced by this robot and I had the feeling that the other guests were too.
The strengths of the device:
I like the idea of having a robot that does everything rather than a myriad of robot from a storage point of view.
The simplicity of use. I managed to pick up the device super fast (with two three indications of the chef).
The side all in one: he cooked, he axe etc,…
The control screen that is big enough and intuitive
Last but not least the most: the i-companion application. Which provides you with a myriad of recipes. Well, you tell me, Céline, you're sweet but revenue sites, there is plethora on the Internet. It's true and they are fine. But revenues are suitable for the device. It's Visual, educational and practical. We have the list of ingredients, the steps and… your companion i connect Bluetooth to your device (Tablet, computer or smartphone) and can therefore be programmed from your application. He follows your steps with the program and the appropriate cooking time. The application also allows to monitor the progress of your recipe by sending you notifications after cooking or during an intermediate stage (to be able to add ingredients). I confess to having two recipes and it was super easy.
Other bloggers & bloggers also tested, here are their articles: mimicuisine -…
Some features of the i-companion:
Price: approximately 900 euros.
Capacity of the Bowl 6 to 8 people.
The device is connected in WHEAT (Bluetooth Low Energy) to your smartphone or tablet. So, it can be programmed directly from the application. The app is free and contains more than 500 recipes. She is available for iOS and Android.
Product made in France.
If you bought the previous model, be aware that you can turn your companion in i-companion
There is a club of users to share your recipes and tips: http://www.cuisinecompanion.moulinex.fr/mon-compte
More info on the site: http://www.moulinex.fr/
Want to try the i-companion?
> Option 1: the tour de France.
Moulinex has decided to test his connected robot offering workshops in cities across France for a month. They called this tour the tour de France.
The principle: 7 cities will be crossed during this tour, in which kitchen around i-Companion workshops will be led by bloggers kitchen. To participate in one of the workshops, it is very simple, sign up by going to this site: http://www.cuisinecompanion.moulinex.fr/ and try to win a place for you and a friend. During the workshop you will discover the cooker i-Companion Robot, and realize a full menu and then enjoy it on the spot!  I tested for you, it's a very cool experience! There is certainly a live Facebook of planned to follow this adventure!
> Option 2: in a near future?
SEB group (including part Moulinex) has already implemented offers loans on some of their devices, I hope they will include this one.
And you, what do you use as a food processor?
Partner section