A friend who has just spent a year in Australia has had the good idea to offer me as a famous balm gift Australian Lucas' Papaw Ointment. I did not know this balm to the "papaya carica" and me who have fast lips as soft as sandpaper in winter, I confess that I surkiffé this Savior balm. Good personally, what I wanted as memory, it was a koala, but I confess that I am delighted to discover this product that I did not know. And then I had a doubt on the agreement between my cat Haiku and the Koala.
And the papaya saved my chapped lips!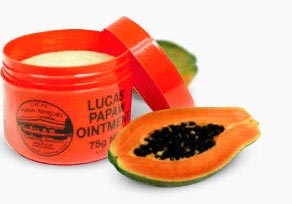 Then this famous gift, what? It's a Salve made from fermented papaya, it has a pretty close texture of vaseline. It's a little Australian cousin of our commercial. Super nourishing, with a very discreet smell (Finally, I tested it while a cold kidnapped me smell) is a flagship in Australia. It is multi-use, therefore, it is often THE balm of the traveler and I quickly understood why. It has antibacterial and anti-microbiennes properties and can be applied for a range of worries: Burns; sunburn, wounds open minor, diaper rash, irritation, (including mosquitoes) insect bites, eczema and dermatitis… ". I have the version tube 25g and it never leaves my purse!
The history of the famous balm Lucas'papaw:
For the little story, the creator of this balm is Scottish. Born in 1843, Thomas Pennington Lucas has developed from an early age a love for natural history and medicine. He later became a general practitioner with a passion for Botany. During his research, the papaya tree and its fruit have impressed Dr. Lucas. He described it as "the biggest agent of healing of the world". So, hop right turn, full sail, the doctor decided to devote all his research around the applications of papaya in modern medicine.
As Dr. Lucas, it's not the kind of guy to do things halfway, he decided to open a hospital in Brisbane, in which patients are treated only treated by papaya herbal remedies. A kind of papaya land what. Besides, the Visual of "Hospital of Vera papaya" is still today present on the products of the brand.
All good things have an end, Dr. Lucas died. But, but, but he left his widow the complete formulas of its preparations and with the instructions for composing them. Ms. Lucas, could not continue the hospital, but she creates the famous balm!
Where to find the Lucas' Papaw without going through the Australia?
I did not search for crazy, but I saw that we could find on Amazon. Phew, because I think that this balm will soon be part of my essentials. There are several versions, tube, pots you choose!