It was the beginning of the summer, it had invited me to an event of entrepreneurs on Troyes. Important persons were present and we wanted to introduce me. On the side of keeping, I had opted for a classic black dress and pumps. After attempting to withhold 120 names and functions, tight hands, distributed smiles, I decided to go home.
So I took my bike and I have walked the town to my home.
From the earliest moments, I noticed that I drew the eye. I told myself, it's the dress and shoes by bike but more the road parade under the impetus of my bicycle, more people looked at me surprised. I found it strange, but I kept my nose to the wind, the game's legs relaxed way.
It is once back home I have the strange mystery of this dazzling attraction for the gaze of passers-by. The top of my dress was edeboutonne giving more than bird's eye views of my bra.
… But at what point is she unbuttoned? I know. I shook hands, the apparent bra? So, for what purpose we gave me business cards? Or, is my dress opened in cycling, spurred on by my heels of athlete? Oh! It's good, we can be dream sport, eh! Quoi_qu' either through my Astrology (Taurus ascendant Pierre Richard) everyone to see my lingerie:)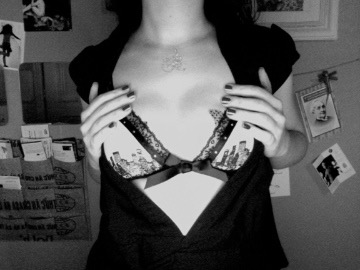 In summary, I am seductive in my clumsiness, and you?
The picture of the bike is signed Leïla Garfield