You want to make a shopping list entirely made in France? You don't know how to do? I (finally) found a solution by finding a site that offers only products designed, created (with love) and manufactured in France. Although being a true Parisian, I live for several years in Troyes. It's the kind of city that sensitizes you with the creativity and the expertise "to the French". Here, it was renamed in the 16th century for our sculptures and our incredible stained glass windows for our wines and our champagne and a few years later for our textile industries (Lacoste and small boat born in Troyes). But the whole of our territory is full of talent, how to find them, it's one of the questions I often ask myself? There are several methods, Word of mouth, blogs, open your eyes and go to the meeting of traders in his neighborhood, platforms like Etsy, and there is this site "of France" http://www.delafrance.com/ which includes several talent entirely made in France (creativity and production). I went to check, and I created you a list of my favorite products! It is!
The true marine coat!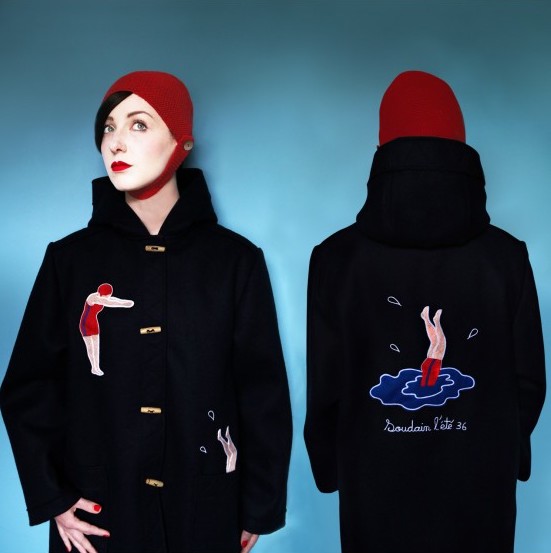 Face the entrance in the winter (personally, I think that we had not fall)… with a real breton kabig, 100% pure wool. It is revisited and embroidered at the Minor to bridge the Abbot. This Le Minor who confided the Kabig modernization to René – Yves Creston in 1937. Attention: room available only on order.
"The artistic director of ete36, a company based in Rennes, it's Pascale Nivet, artistic director of the brand. She think the everyday objects and also appealed to Breton manufacturers as the Minor. Embroider eyes, back to the taste of the day the breton traditional working clothes, breathe new life into our old cement tiles offer a scalable graphic line of the socks to the stationery; like so many playful nods to this Britain where she lives has always been between tradition and modernity. "Ete36 just wish, in turn, contribute to the building."
The cover art deco inspiration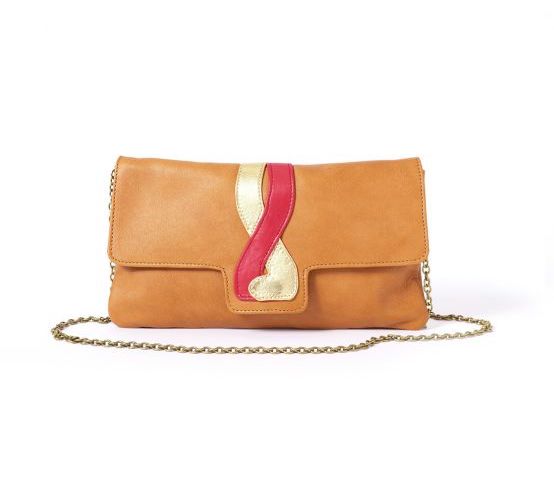 Because I have a mad passion for bags, I fell for this flat smooth leather flap bag full flower at Maud Terseur. The metal chain is retractable inside the bag to be able to wear it in cover mode.
The stylist has worked for various brands of leather goods: Brontibay, Nat & Nin or Lancaster, before you fly with its own wings.
Price: 110 euros
Height: 13.5 cm width: 23cm / Interior: lining 100% cotton printed peas.
Buy here: http://www.delafrance.com/
The bowtie for the boyfriend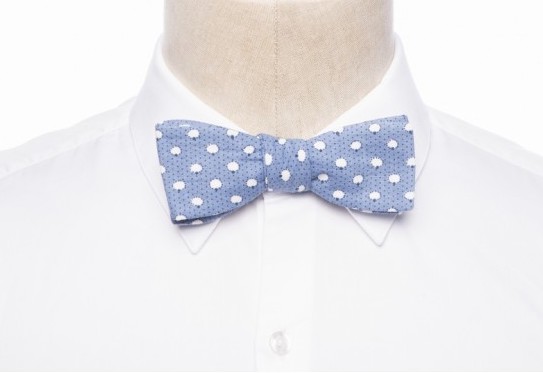 Also, there is a nice selection of items for men: bags, belts, fragrance, cream sweater and the famous bow tie. My favorite, one sporting a discreet pattern "white sheep". Like this, if I have trouble falling asleep, suffice it turn to the lover and of count, and then re – count small sheep of his bow tie.
The creator, it's the OWL brand Ullys which handles elegance and responsible attitude and we like it! "Because elegance is not about appearance, the brand mobilizes also to others. The modern hero is a responsible man, an actor committed to his time, bearer of a vision and values. Essential for life, drinking water is still very rare in some parts of the world. Indeed, even today, more than a billion people have still not access to this vital resource. In 2010, the Assembly General of the United Nations recognized the right to drinking water and sanitation as a human right. Access to water is a major issue of the future, a humanitarian and environmental challenge that Ullys wants to meet. At our level, we participate actively in this common challenge by supporting the actions of associations and NGOS specialized. Let's make the choice of the blue!"
The coudiere who keeps one eye open!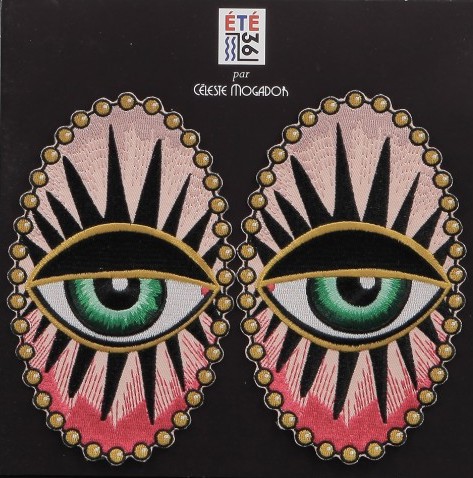 It's the summer 36 brand which offers this original thermo-collante coudiere (me personally, I prefer to sew them).
Graphic design came out of the spirit of the Breton designer Céleste Mogador! "Do-it-yourself, Visual artist and artisan" she is self-taught in embroidery, and he looks good!
Why I love this piece: already by graphic heart stroke (and it is not explained.) But also because it reminds me of the ancient Egypt Wedjat eye. We found a woman (Mummy) that it was tattooed on his body. Its meaning: get him some protection but also magical powers…
DeLaFrance.com:
The young site "Delafrance.com's new top of range of ready-to-wear clothing and beauty products inspired by strong values. Our goal, offer the best choice, transparently to the French 100% origin, who lives and evolves over the collections and the desires of our customers. Products are selected for their French manufacturing but especially for their superior quality without compromise, or compromise."
The site in a few points:
More than 30 designers referenced.
You can select the items by region.
Manufacturing really 100% made in France.
Commitment of the brands in their missions.
Quality products, original and renewed.
Free from 80 euros to purchase delivery and return (see conditions on the site).
Service after sales reached 6/7 j
Possibility to buy gift cards
A nice blog-online http://www.delafrance.com/la-gazette